Accelerating African Economic Integration: AfCFTA and the Digital Trade Revolution
Introduction
The African Continental Free Trade Area (AfCFTA) is a bold and groundbreaking initiative aimed at promoting economic integration and growth across the African continent. The AfCFTA agreement was adopted and made available for signature on March 21, 2018, in Kigali, Rwanda, and officially came into effect on May 30, 2019.

The AfCFTA holds the potential to unlock Africa's enormous economy, the agreement also recognizes the importance of digital trade in driving growth and development in the digital age. Digital Trade issues will be incorporated into a Protocol, which will become an integral part of the AfCFTA Agreement upon entry into force. 

In May 2021, the Council of Ministers established the Committee on Digital Trade to coordinate and facilitate the negotiations of the AfCFTA Protocol on Digital Trade. The Committee is comprised of all State Parties. This article examines the relationship between AfCFTA and Digital Trade, highlighting its opportunities and challenges for African economic development.

AfCFTA aims to establish a single market for goods and services, promote the free movement of people, ease investment, and make Africa more competitive and prosperous. AfCFTA lays the groundwork for increased trade flows and regional integration by eliminating tariffs and non-tariff trade barriers among member countries. AfCFTA, with its ambitious goal of integrating all 55 African Union (AU) member states, creates a massive market of more than 1.2 billion people and a combined GDP exceeding $3.4 trillion. This substantial market size holds the potential to drive economic growth and foster stronger cooperation among African nations, paving the way for a more competitive and prosperous Africa.

The Rise of Digital Trade
Digital Trade, also known as e-commerce or electronic commerce, encompasses a broad range of commercial activities conducted over digital networks. It entails the exchange of goods, services, and information via online platforms, allowing for cross-border transactions and market access. Digital Trade has grown significantly in recent years, owing to technological advancements and increased internet penetration.

Digital technologies have the potential to bridge traditional infrastructure gaps in Africa, connecting businesses and consumers, and accelerating economic growth. African nations can harness the transformative power of technology to unleash new economic opportunities by incorporating Digital Trade into the AfCFTA framework.
The Role of Digital Trade as a Catalyst
There are several benefits to Digital Trade, including:
1. Market Expansion: The AfCFTA provides vast opportunities for African businesses to access a larger market. Through Digital Trade, businesses can overcome traditional trade barriers and connect with consumers across the continent, maximizing the potential of Africa's young and growing population.
2. Job Creation and Skill Development: Digital Trade creates opportunities for entrepreneurship and job creation, particularly in the technology and service sectors. It provides opportunities for workforce upskilling and reskilling, as well as for African youth empowerment and innovation.
3. Finance and Investment: Digital platforms and financial technology solutions can improve access to finance, encourage investment, and make cross-border transactions easier. This has the potential to accelerate economic development, particularly in underserved areas.
4. Trade in Services: AfCFTA goes beyond the traditional focus on goods to include trade in services. This includes sectors such as financial services, telecommunications, and consulting are among the services which can be exported using Digital Trade platforms, promoting diversification and value addition in African economies, enabling the expansion of service sectors, and fostering economic growth.
While the integration of AfCFTA and Digital Trade has enormous potential, certain challenges must be overcome:
1. Digital Infrastructure: Adequate digital infrastructure, including affordable and dependable internet connectivity, is critical for the success of Digital Trade. African countries must invest in broadband networks, digital literacy programs, and cybersecurity measures to close the digital divide.
2. Regulatory Frameworks: It is critical to harmonize and streamline regulations pertaining to e-commerce, data protection, and online payments. Creating clear rules and frameworks for Digital Trade will increase consumer trust, promote fair competition, and make cross-border transactions easier.
3. Skills Development: Improving digital skills among the workforce is critical for reaping the full benefits of Digital Trade. Governments and educational institutions should prioritize digital literacy programs, vocational training, and entrepreneurship development to prepare individuals for the digital economy.
4. Inclusion: It is critical that Digital Trade benefits all segments of society, including women, rural communities, and marginalized groups. Efforts should be made to close the digital gender gap, increase access to digital tools, and encourage digital inclusion for all.
By addressing these challenges, African countries can create an enabling environment for Digital Trade, maximize its potential, and drive inclusive economic growth across the continent.
Conclusion
The AfCFTA-digital trade convergence has enormous potential for Africa's economic transformation. African nations can unlock new economic opportunities, foster innovation, and boost regional competitiveness by embracing digital technologies. However, addressing infrastructure, regulatory, and skill development challenges is also critical to ensuring inclusive and sustainable Digital Trade.
Africa can fully leverage the power of Digital Trade to propel its economic growth and integration within the AfCFTA framework by taking a collaborative approach and investing in the necessary foundations.
Reference(s)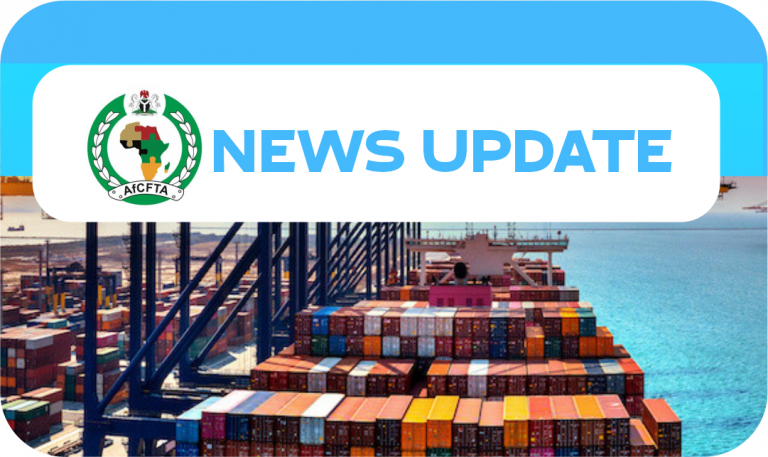 Nigeria's intra-African trade dips 12% to N842.6bn in Q1'23
Nigeria's intra-African trade has continued to underperform expectations despite the commencement of the African Continental Free Trade Area (AfCFTA) as the trade value fell Year-on-Year (YoY) to N842.6 billion in the first quarter of 2023 (Q1'23) 11.95 percent down from N956.93 billion in Q1'22.
READ MORE

Firm to invest $1m on women empowerment across Africa
The Peak Performer Africa (TPP) has disclosed that it intended to invest $ 1 million to train one million women across Africa leveraging The Peak Performing (TPP) Woman project, a vehicle for driving renewed commitment towards women empowerment on the continent.
READ MORE

Automobile sector backbone to industrialisation, AfCFTA sustainability – Wamkele Mene
Secretary-General of the Africa Continental Free Trade Area (AfCFTA) Secretariat, Wamkele Mene, has touted the budding automobile sector as a critical backbone to industrialization and subsequent sustainability of the free trade area
READ MORE

WTO Address Worry Over Digital Technology, IDP Regulatory Fragmentation
In a bid to address the regulatory fragmentation of digital technologies and intangible digital goods (IDPs), member states of the World Trade Organization (WTO) have been urged to conform to international standards.
READ MORE