AfCFTA and Intellectual Property: Navigating Innovation and Collaboration in a Unified African Market
The African Continental Free Trade Agreement (AfCFTA) has emerged as a game-changing initiative with the potential to transform trade and economic dynamics across the African continent. One critical aspect of this transformational journey is the consideration of intellectual property (IP) rights. As African nations move toward deeper integration and increased collaboration, intellectual property harmonization and protection will play a critical role in fostering innovation, encouraging creativity, and facilitating long-term economic growth.
This article examines the complex relationship between AfCFTA and intellectual property, scrutinizing how this collaboration can shape Africa's future trade and innovation.
What is Intellectual Property?
Intellectual property refers to the legal rights and protections granted to individuals or entities for their intellectual and creative creations. These creations can include inventions, literary and artistic works, designs, symbols, names, and images. Intellectual property is protected by legal mechanisms, granting creators and innovators exclusive rights to their creations. These rights encourage innovation and provide a framework for creators to profit from their work, ultimately driving economic development.
Intellectual property can include a variety of intangibles, some of which are listed below.
Patents
Copyrights
Trademarks
Designs
Trade secrets
Database
The AfCFTA's Ambitious Goals
The AfCFTA, signed by most African Union member states, pursues ambitious goals of dismantling trade barriers, eliminating tariffs on a substantial range of products, and creating a unified market that spans the continent. The agreement envisions increased intra-African trade, reduction of economic dependencies, and the empowerment of local industries.
Intellectual Property and AfCFTA
The relationship between Intellectual Property and the AfCFTA is significant, as it involves balancing the protection of IP rights with the goals of promoting trade, innovation, and economic development within Africa. As member countries work to lower trade barriers and harmonize regulations, it becomes increasingly important to address intellectual property-related challenges. The relationship between IP and the AfCFTA embodies a complex interplay between protection and promotion. Here are key aspects that highlight this intricate balance: 
Promoting Innovation and Creativity: Intellectual property, at its core, serves as a catalyst for innovation and creativity. It encourages individuals, businesses, and industries to invest time, resources, and expertise in the development of game-changing ideas, inventions, and artistic works. Because AfCFTA facilitates the movement of goods, services, and people across borders, harmonization and strengthening of intellectual property protection across member states can create an environment conducive to innovation.
Technology, pharmaceuticals, and creative industries, for example, stand to benefit significantly from enhanced IP protection under the AfCFTA framework. AfCFTA can spark a surge in cross-border collaboration, technology transfer, and knowledge exchange by ensuring that innovators have the confidence to bring their creations to market, ultimately propelling Africa to the forefront of global innovation. 


Harmonization of IP Regulations: AfCFTA allows member countries to harmonize their intellectual property laws and regulations. A consistent and coherent IP framework facilitates the protection of IP rights across the continent by simplifying cross-border transactions, reducing legal complexities, and facilitating the protection of IP rights. 


Capacity Building and Knowledge Sharing:As AfCFTA opens the door to greater collaboration, capacity building and knowledge sharing in the field of intellectual property become increasingly important. Member states can use the AfCFTA community's collective expertise to strengthen their IP infrastructure, improve enforcement mechanisms, and empower local creators and entrepreneurs. Capacity-building initiatives can provide African nations with the tools and skills they need to effectively manage and protect their intellectual property assets. AfCFTA member states can bridge the knowledge gap and ensure that the benefits of a strong IP system are available to all, from established industries to emerging startups, by investing in education, training, and technology transfer. 


Access to Essential Goods: It is critical to strike a balance between intellectual property rights and the need for affordable access to essential goods such as medicines. AfCFTA provides a forum for member states to engage in meaningful discussions about intellectual property-related flexibilities when accessing these essential goods, ensuring that public health concerns are adequately addressed.
 
Counterfeiting and Piracy: AfCFTA can help member countries work together to combat counterfeiting and piracy, which undermine brand integrity and innovation. That way, IP enforcement mechanisms that are strengthened can lead to a more secure and transparent marketplace.


Inclusive Innovation Ecosystem: AfCFTA can contribute to building a more inclusive innovation ecosystem in Africa. By encouraging collaboration and knowledge-sharing, the agreement can promote the participation of smaller businesses, startups, and grassroots innovators, enabling them to protect and commercialize their intellectual property on a broader scale.
Conclusion
The evolving relationship between IP and the AfCFTA necessitates ongoing dialogue and adaptation as African nations embrace deeper integration and harmonization, maintaining the equilibrium between robust IP protection and fostering trade remains pivotal.
AfCFTA demonstrates its commitment to a future in which innovation thrives, essential goods remain accessible, and the continent as a whole reaps the benefits of a united and prosperous African market by striking a balance between IP rights and public interests.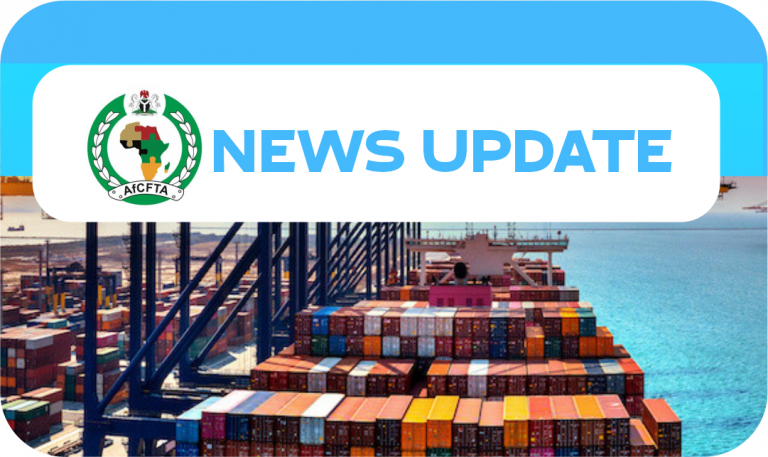 Nigeria to join continental trade initiative — AfCFTA's boss
The Executive Secretary, National Working Committee, African Continental Free Trade Area, Nigeria, Segun Awolowo, has expressed the readiness of the country to join the second phase of the Guided Trade Initiative.
READ MORE

Zenith Bank: Enhancing AfCFTA with SMARTAfCFTA
The African Continental Free Trade Area (AfCFTA) offers tremendous opportunity for unlocking business potential across the continent and the world.
READ MORE

West African militaries meet to finalise possible Niger intervention
West African army chiefs were due to hold a second and final day of talks on Friday in Ghana's capital Accra, where they have been hashing out the details of a possible military intervention in Niger if diplomacy fails to reverse a military coup.
READ MORE

Africa could be the answer to global supply chain disruptions, says new report
The United Nations Conference on Trade Development has shed light on how investing in African countries could help in tackling global supply chain disruptions.
READ MORE