AfCFTA and Sustainable Development Goals (SDGs): Driving African Prosperity
The African Continental Free Trade Area (AfCFTA) represents a great opportunity for the African continent to achieve long-term development and economic growth. It is a trade agreement aimed at promoting economic integration and cooperation among African countries. The Sustainable Development Goals (SDGs) of the United Nations (UN) provide a comprehensive framework for addressing global challenges and achieving a better and more sustainable future for all.
This article provides an insight on how AfCFTA aligns with and helps to achieve the SDGs of the United Nations in Africa, emphasizing the significant impact this agreement can have on the continent's development.
AfCFTA Overview
AfCFTA, which went into effect on January 1, 2021, is a ground-breaking initiative that aims to create the world's largest single market by bringing together 55 African countries with a combined population of over 1.3 billion people and GDP in excess of $3 trillion. Tariffs on 90% of goods will be eliminated, non-tariff barriers will be reduced, and intra-African trade will be encouraged. The potential benefits are numerous, ranging from increased economic growth to poverty reduction, but perhaps most importantly, aligning AfCFTA with the United Nations' SDGs is a strategic move that holds great promise for Africa's long-term development.
Aligning AfCFTA with the SDGs
The Sustainable Development Goals (SDGs) are 17 goals set by the United Nations General Assembly that all 191 UN Member States have agreed to try to achieve by 2030. AfCFTA closely aligns with the SDGs in several key ways:
Poverty Eradication (SDG 1): By creating jobs and expanding economic opportunities, AfCFTA has the potential to lift millions out of poverty. By lowering trade barriers, it encourages entrepreneurship, small and medium-sized enterprises (SMEs), and the informal sector, all of which are important sources of employment in Africa. 
Hunger and Food Security (SDG 2): Increasing agricultural exports and promoting agricultural value chains can help to increase food security. This can aid in the fight against hunger and malnutrition by providing a more stable and diverse food supply. 
Good Health and Well-Being (SDG 3): The increased economic activity spurred by AfCFTA can greatly benefit healthcare systems. Governments can invest in better healthcare infrastructure as their economies grow, improving the overall health and well-being of their populations. 
Quality Education and Lifelong Learning (SDG 4): Increased economic activity resulting from AfCFTA can lead to increased government revenues, which can then be reinvested in education and lifelong learning programs, improving access to quality education for all. 
Gender Equality (SDG 5): Because AfCFTA has the potential to boost economic growth and job creation, it has the potential to empower women, who often play critical roles in the informal sector. AfCFTA can help to achieve gender equality and women's empowerment by promoting gender-inclusive policies. 
Water and sanitation (SDG 6): Economic development is frequently associated with infrastructure development. Resources generated by increased trade and economic growth can result in improved infrastructure, including water and sanitation systems. 
Affordable and Clean Energy (SDG 7): Access to affordable and clean energy sources is critical for long-term development. The economic integration facilitated by AfCFTA can drive investments in renewable energy and increase energy accessibility. 
Decent Work and Economic Growth (SDG 8): The AfCFTA aims to stimulate economic growth by encouraging trade and investment, which will result in the creation of decent jobs. The free trade zone can aid in the development of industrial capacities, the promotion of innovation, and the diversification of economies. 
Industry, Innovation, and Infrastructure (SDG 9): AfCFTA has the potential to drive African industrialization and infrastructure development. It promotes cross-border manufacturing and logistics investments, resulting in improved infrastructure and technological advancement. 
Reduced Inequality (SDG 10): The benefits of AfCFTA can reach marginalized communities, lowering income inequality by allowing all sectors of society to participate in economic growth and development. 
Sustainable Cities and Communities (SDG 11): As economic activity expands, so does the demand for sustainable urban development. AfCFTA can encourage infrastructure investments and sustainable practices, making African cities more resilient and livable. 
Responsible Consumption and Production (SDG 12): Environmental conservation requires the promotion of sustainable consumption and production practices. AfCFTA can encourage environmentally friendly production and consumption patterns, incentivizing responsible behavior. 
Climate Action (SDG 13): AfCFTA can encourage environmentally friendly production and trade practices. Reduced trade barriers can also help African countries address climate change by facilitating the exchange of green technologies. 
Life Below Water (SDG 14): It is critical to conserve aquatic life. AfCFTA can help to enforce policies that protect African ecosystems while encouraging sustainable resource management. 
Life on Land (SDG 15): Similarly, conserving terrestrial life is crucial. AfCFTA can contribute to policies that protect African ecosystems and wildlife, promoting sustainable land use. and terrestrial life.  
Peace, Justice, and Strong Institutions (SDG 16): By increasing economic interdependence among nations, trade integration can promote peace and stability. AfCFTA can help to strengthen institutions and governance systems. 
Partnerships for the Goals (SDG 17): Because it involves trade agreements and collaboration among multiple African nations, AfCFTA emphasizes the importance of international cooperation and partnerships.
Conclusion
The African Continental Free Trade Area is a monumental step toward the continent's long-term development. AfCFTA demonstrates its potential to drive positive change across a wide range of sectors, from poverty reduction to environmental conservation, by closely aligning with the United Nations' Sustainable Development Goals. If African countries can effectively leverage this agreement and implement the necessary reforms, the continent stands to make significant progress toward a brighter, more sustainable future for all of its citizens. AfCFTA has the potential to be a powerful catalyst for achieving the SDGs in Africa, as well as a testament to the continent's commitment to prosperity and long-term development.
Reference(s)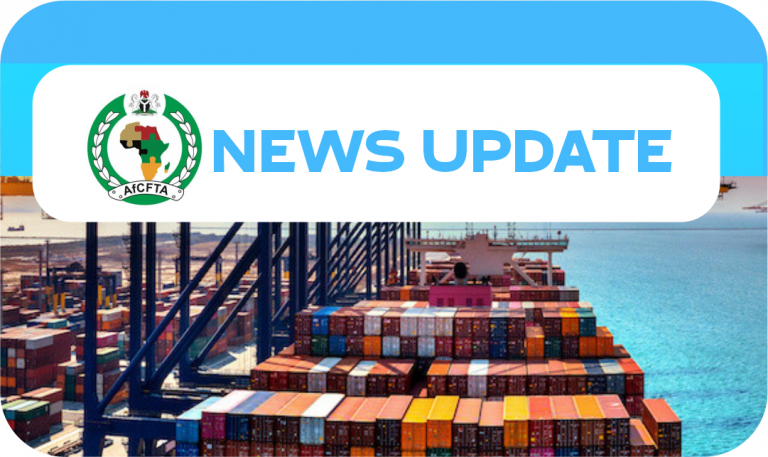 FG seeks collaboration for AfCFTA success
The Federal Government has urged West and Central African countries to collaborate for the success of the African Continental Free Trade Area.
READ MORE

AfCFTA offers crucial trade-off between revenue collection, trade facilitation
The Comptroller General of Nigeria Customs Service (NCS), Bashir Adewale Adeniyi, said the objectives of Africa Continental Free Trade Area (AfCFTA) presented beacon of hope for Africa's economic transformation
READ MORE

Pan-African manufacturers lament low intra-Africa trade
The President of the Pan-African Manufacturers Association, Mansur Ahmed has expressed concern about the low intra-Africa trade.
READ MORE

African Finance Summit: Challenges and opportunities for a booming sector
The African financial world has grown considerably in recent years but not without facing some major challenges.
READ MORE