Recently, the Nigerian manufacturing sector has shown significant growth owing to flexible policies that encourage local production. The government has been making efforts to reduce the costs of local consumer goods to promote more output of these products and other sectors. This newsletter examines the position of the Nigerian manufacturing sector in relation to the African Continental Free Trade Area (AfCFTA).
THE NIGERIAN MANUFACTURING SECTOR
The manufacturing industries in Nigeria is an economic sector that brings approximately 10 percent of total GDP (Gross Domestic Product) each year. Manufacturing activity is concentrated in large cities like Lagos, Port Harcourt, and Ibadan, in the south of the country. Millions of people are involved in producing household goods, consumer products, automobiles, agriculture, mining, cement, building materials, etc. The Nigerian manufacturing sector is dominated by the production of cement and building materials, food and beverages, tobacco, chemicals and fertilizers, wood, and textiles. Out of all only 3 subsectors (food & beverage, cement, and textile) account for 77% of manufacturing output generating the greatest value. Also, breweries and flour mills contribute well to the manufacturing sector.

The Nigerian manufacturing sector has been performing well in recent years as compared to previous years. The incentives by the government are also beginning to encourage greater interest, to encourage more output in the manufacturing sector the government has been making it cheaper for consumers to purchase locally manufactured goods, making the foreign alternatives prohibitively expensive or totally unavailable through import bans, facilitation of cheaper funding, discriminatory foreign exchange policies, and so on.

Nigeria's Manufacturing sector recorded a real GDP growth of 2.28% (year-on-year) in Q4, an improvement from the corresponding quarter of 2020 but lower than the preceding quarter of Q3 2021 by 3.80% and 2.01%, respectively. This information is contained in the quarterly Gross Domestic Product report, published by the National Bureau of Statistics. The nominal GDP growth for the sector, however, was recorded at 25.52%, reflecting a growth of 0.92% from Q4 2020 and a decline of 7.21% quarter on quarter.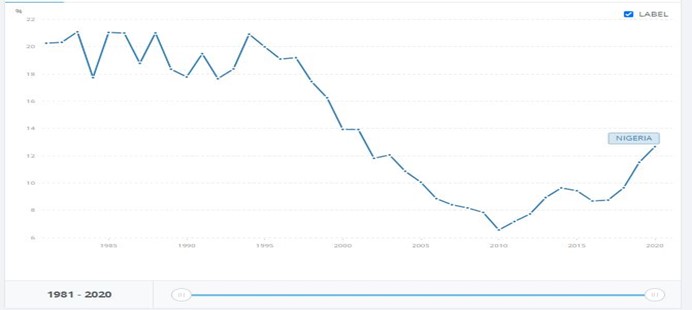 Manufacturing, value added (% of GDP) – Nigeria (OECD National Accounts data files).
Nigeria's manufacturing sector grew by 5.89% (year-on-year) in real terms in Q1 2022, an increase of 3.61% points from the preceding quarter which recorded a growth rate of 2.28%. Nominal GDP growth of the sector was recorded at 11.72% year-on-year in Q1 2022, showing a fall of 20.38% points from the same quarter of 2021 (32.10%). The sector contributed 10.20% to overall GDP in real terms in Q1 2022, higher than the contribution in the first quarter of 2021 and lower than the fourth quarter of 2021 which stood at 9.93% and 8.46%. The National Bureau of Statistics (NBS) released its Q1 2022 GDP report on Thursday, which revealed this. According to the research, Nigeria's Gross Domestic Product (GDP) increased by 3.11% in real terms in the first quarter of 2022.
 
AFCFTA AND THE NIGERIAN MANUFACTURING SECTOR
Nigeria has a significant impact on the African and world market, with almost 60% of its commodities imported from different parts of the world. However, The Nigerian open borders witness more imports than exports, which discourages local manufacturing and limits the revenue generated from the borders.

One of the primary sources of income of open borders in Nigeria is through tariffs collected from international trades. But, the African Continental Free Trade area's policies encourage member nations to eliminate taxes on almost 90% of intra-African trades. Consequently, the value of tariffs generated for open borders will reduce by nearly 59%. Fortunately, Nigeria is blessed abundantly with natural resources for manufacturing and exportation. With the government's further investments in the manufacturing sector, the nation will produce goods locally and trade actively internationally.

The development and strategic positioning of Nigeria's manufacturing sector is necessary for the country to enjoy the benefits that the AfCFTA offers. In Nigeria, access roads to premier seaports in Apapa and Tin Can, Lagos, are plagued by gridlocks, hurting export and import, in addition to lack of functional scanners by the Nigeria Customs Service, which causes untold delays of raw materials to factories and exports to destination countries.

Manufacturing companies situated on the Amuwo-Odofin and Kirikiri axes lose over N20 billion annually, and most of the factories are on the brink of shutting down because the roads are inaccessible. Furthermore, between 2019 and 2020, the cost of moving goods in a 40-foot container from Apapa to other areas within Lagos rose from N350,000 to N1.5 million to N2 million making manufacturers incur more costs. In addition to this, no less than 5,000 trucks seek access to Apapa and Tin Can ports in Lagos daily, however, the two ports can only accommodate 1,500 trucks.

The Dangote group has immensely contributed to the manufacturing sector through the production of various Fast Consumer Moving Goods (FCMG), it has also over the years employed a combination of exports and Foreign Direct Investment (FDI) across Africa. However, it appears that Nigeria is importing more than she is exporting. Thus, the AfCFTA provides an opportunity for Nigerian business to through manufacturing take tariff advantages which are only available to products that originate within the preferential trade area as measured by the applicable Rules of Origin (RoO) criteria for such products.

In conclusion, the Nigerian manufacturing sector can contribute to the economy's GDP by up to 23% and increase revenues generated from open borders via trades. Nigeria's involvement in the AfCFTA should also encourage flexible intra-African transactions while producing adequate output for generating income. The initial contribution of the manufacturing sector summed up to about 24 billion naira. Expanding the sector, however, was supposed to increase its contribute to up to 32.5 billion naira.