In the previous edition, we discussed Arab Maghreb Union (UMA) being one of the 8 RECs recognized under the African Union, and how they relate with the AfCFTA. In today's edition we would examine Common Market for Eastern and Southern Africa (COMESA).

Common Market for Eastern and Southern Africa (COMESA) was formed in December 1994 to replace the former Preferential Trade Area (PTA) from the early 1980s in Eastern and Southern Africa. COMESA was created to serve as an organization of free independent sovereign states that have agreed to cooperate in developing their natural and human resources for the good of all their people.

COMESA has nineteen (21) countries, and they include Burundi, Comoros, Democratic Republic of Congo, Djibouti, Egypt, Eritrea, Ethiopia, Kenya, Libya, Madagascar, Malawi, Mauritius, Rwanda, Sudan, Swaziland, Seychelles, Uganda, Zambia, and Zimbabwe. Recently, Somalia and Tunisia have joined as COMESA members.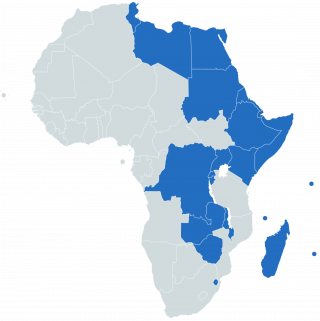 The objective of COMESA reflects its priorities to promote sustainable economic development and they include.
1. To attain sustainable growth and development of the member states by promoting a more balanced and harmonious development of its production and marketing structure.

2. To promote joint development in all fields of economic activity and the joint adoption of macro-economic policies and programs to raise the standard of living of its peoples and to foster closer relations among its member states

3. To co-operate in the creation of an enabling environment for foreign cross-border and domestic investment including the joint promotion of research and adaptation of science and technology for development

4. To co-operate in the promotion of peace, security, and stability among the member states to enhance economic development in the region

5. To co-operate in strengthening the relationship between the Common Market and the rest of the world and the adoption of common positions in international fora

6. To contribute towards the establishment, progress, and realization of the objectives of the African Economics Community.

However, due to COMESA's economic history and its background, its main focus is on the formation of a large economic and trading unit that is capable of overcoming some of the barriers that are faced by individual states. With a population of over 520 million and global trade in goods worth US$ 235 billion, COMESA forms a major marketplace for both internal and external trading. 

Free Trade Area (FTA) was achieved on 31st October 2000 when nine of the member states (Djibouti, Kenya, Madagascar, Malawi, Sudan, Zambia, and Zimbabwe) eliminated their tariffs on COMESA-originated products, in accordance with the tariff reduction schedule adopted in 1992. This followed a trade liberalization program that commenced in 1984 on the reduction and eventual elimination of tariff and non-tariff barriers to intra-regional trade.

On the 1st of January 2004, Burundi and Rwanda joined the FTA making the total number eleven. These eleven FTA members have not only eliminated customs tariffs but are working on the eventual elimination of quantitative restrictions and other non-tariff barriers.

The implementation of the African Continental Free Trade Area (AfCFTA) whose trading commenced on 1st January 2021 is expected to provide the missing ingredient to intra-COMESA trade. Among them is the elimination and resolution of some of the challenges associated with multiple and overlapping memberships in COMESA. This will be achieved through the harmonization of integration policies for the existing Regional Economic Communities (RECs) FTA.

AfCFTA will progressively eliminate tariffs on intra-African trade, making it easier for African businesses to trade within the continent and benefit from the growing African market, making it more affordable for informal traders. Also, manufacturers and service providers will be encouraged to increase production to serve the enlarged market. Given that most trades take place among neighboring countries, this will lead to enhanced production and trade among COMESA members.

In addition, AfCFTA will stimulate the formation of regional value chains to ease production and supply to the enlarged market. COMESA member states producers will therefore easily join the value chains such as Agricultural products, animal, and animal products. This will enhance their production efficiencies, increase their profit margins, and consequently integrate into the global value chain.

AfCFTA has the potential to reduce external imports from external sources and increase intra-REC and African trade by opening more regional markets. The AfCFTA brings together 55 African Union (AU) member states with a total population of about 1.3 billion and a combined GDP of about US$ 3.4 trillion. Intra-COMESA trade have grown from US$1.5 billion in 2000 when the regional free trade was established to US$0.9 billion in 2019. It is expected that the AfCFTA will boost intra-African trade by 52.3% through tariff liberalization and this could double with the reduction of non-tariff barriers.

In conclusion, for the AfCFTA to be successfully implemented RECs such as the COMESA would be needed. The AfCFTA would have to lean on the Progress on other RECS such as the COMESA have made in important areas such as COMESA Investment Area, COMESA Competition Policy, COMESA's progress on the issues of Intellectual Property Rights and the COMESA Digital FTA.