Family Office and Private Wealth Management (2)
Welcome to another edition of Private office. We would be finishing our discussion on Family Office and Private Wealth Management this week. In the last edition, we focused more on Family Office, in this edition we would be discussing Private Wealth Management as well as comparing it with Family Office.
In the previous edition, we defined Private Wealth Management as investment management and financial planning for individuals in contrast to corporations, trusts, funds, and other institutional investors.
With the help of a financial advisor, Private Wealth Management is the practice of solving or improving a client's financial situation and achieving short-medium, and long-term financial goals. From the financial adviser's perspective, Private Wealth Management involves providing clients with a full suite of financial products and services to help them achieve their financial goals.
In the world of Private Wealth Management, large corporations, independent financial advisors, and portfolio managers specialize in managing assets for wealthy individuals. They provide a range of services, including portfolio management, estate planning, mortgage planning, asset protection, tax management, and other financial services.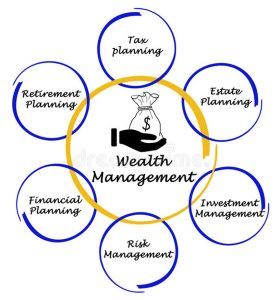 Wealth managers specialize in managing the finances of private, often high-net-worth individuals (HNWIs). These individuals may lack the time, knowledge, or effort to manage their own wealth. Also, they have a unique financial situation which makes them require a high degree of active management.

Banks and large brokerage houses can provide Private Wealth Management Services, as can independent financial advisers and multilicensed portfolio managers who specialize in high-net-worth investors. The main objective of private wealth management firms is to manage and grow the assets of their clients in order to provide for future generations. These firms are usually smaller sections within large financial institutions.

Typically, these groups include a variety of advisers and experts who can provide advice on a wide range of investments, including cash, fixed-income, equities, and alternative investments. They can build a portfolio of assets that meets the investor's risk tolerance while providing growth opportunities.

Clients are often charged a percentage of the assets they manage by private wealth managers. The performance potential of a fee-based payment scale is greater than that of a commission-based payment scale because it results in less conflict of interest. A commission-driven payment may motivate private managers to recommend investment products and services which will earn them high commissions but have little potential to grow a client's wealth.

Private Wealth Management and Family Office are two types of financial advisory services that play an important role in the economy today. While there is a misconception that both are similar, there are some differences between them.

Firstly, Wealth Management and several other investment strategies differ from family offices in the level of personal attention they give their clients. While family offices focus primarily on ultra-high-net-worth individuals or very small groups of families, wealth managers serve multiple affluent investors.

Also, family offices offer a holistic approach to wealth management, not only providing financial support, but also offering charitable support, concierge services, and other holistic services.

In conclusion, it becomes difficult to understand the difference between family office and wealth management. However, families who desire greater control over their investments and assets prefer a family office's bespoke wealth planning. The benefits of wealth management include low cost and no customization required, thus making them ideal for people from a variety of economic backgrounds.

Green Growth Africa wins ESD, E-STEM awards
Green Growth Africa Sustainability Network (GreenGrowthAfrica) has emerged winner of the Okayama award for Education for Sustainable Development (ESD) and the Pratt & Whitney E-STEM award.
READ MORE
Lots of Business Deals Reached During the US Africa Summit
Nearly 15 new commitments between U.S. and African businesses were announced during last week's U.S.-Africa Leaders Summit, in fields ranging from mining to healthcare to basketball.
READ MORE
Benin Bronzes: Germany returns looted artefacts to Nigeria
Germany's Foreign Minister Annalena Baerbock has handed 22 artefacts looted in the 19th Century back to Nigeria at a ceremony in the capital, Abuja.
READ MORE
New visa policy: Envoy advises Nigerians to check with airlines
The Consul General of Nigeria in New York, Amb. Lot Egopija has advised the Nigerians in the U.S. with expired passports travelling home to cross check with the airlines before travelling.
READ MORE