Family Office and Private Wealth Management
In this edition of our Private Office Newsletter, we would have our discussions on "Family Office and Private Wealth Management".
The management of family wealth is very specific and complex, as it involves not only the business itself, but also the management of liquidity ratios, private equity investment, stock portfolio investment, debt structures, and even private use of assets. As a result, a very specific approach is required.
The term "private wealth management" refers to investment management and financial planning for individuals. A private wealth manager can assist individuals in navigating the complexities of financial markets as well as seeking the benefits that come with them.
The term 'family office' refers to a private wealth management firm that specializes in providing wealth management advice to ultra-high-net-worth individuals (HNWIs). It is important to note that family offices differ from traditional wealth management shops in the sense that they can provide a total solution to the management of affluent individuals or families' financial and investment needs.
In a family-run business, succession planning may require structures, such as trusts or a foundation for the family's assets. Due to the complexity of these situations, clients may wish to consult with a family office to assist in managing their assets and aligning their interests. A family office can also handle non-financial issues, such as private schooling, travel arrangements, and other household arrangements.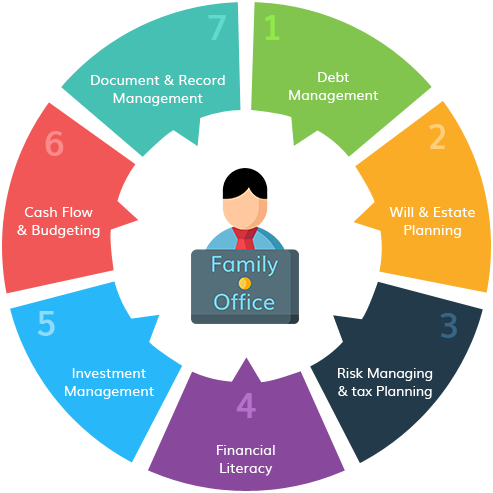 Here are five reasons why you might want to set up a family office:
1. The most important reason why family offices are so special is that they are personal. A family office is tailor-made and in contrast to other service providers, only works for one client, the family.

2. A family office also serves as a privacy fortress, allowing a family to have all personal information in one secure place and accessible by only a limited number of people.

3. The third reason for family office is prosperity. As the wealth of many families is spread unevenly, there is always a need to strike a balance between wealth creation and the financial needs of family members.

4. Perpetuity. Family office usually serves a specific purpose, such as creating a legacy across generations or funding a group of charities. Family offices can support families in defining their purpose and helping them create that legacy.

5. Finally, a family office is created to maintain a higher level of professionalism. Families are increasingly taking on the responsibility for managing their wealth in a highly professional way, as a business on its own with dedicated experts. As families and businesses become more international, professionalism is key.
Family offices typically serve either single-family clients or multiple family members. MFOs  are more closely related to traditional private wealth management practices.
Giving advice to wealthy families requires an in-depth knowledge of the many factors involved, and this is something that only a team of professionals can provide. It's a collaborative effort among professionals from the legal, insurance, investment, estate, business, and tax disciplines.
Family offices offer high-level financial planning through an integrative approach. Combining asset management, cash management, risk management, financial planning, and lifestyle management services, family offices help clients navigate the complex world of wealth management.
In conclusion, Business comes before all else, so it is important for family offices to make objective decisions. If a family member decides to hire someone else to manage operations, the two should have clear lines of authority and responsibilities in order to avoid any confusion. It is useful to communicate with your family office manager on a regular basis and view detailed reports about financial operations regularly.
In the next edition of this newsletter, we will focus more on Private Wealth Management.
As part of our Private Client services, we have experienced Trust and Estate Planning Advisors ready to assist you to develop an estate plan that protects, preserves, and sustains you and your family's wealth for generations.
Contact us at contact@firstfiduciary.ng for more inquiries.

After 6 Weeks In Office, UK Home Secretary Resigns For Sharing Official Document From Private Email
British interior minister Suella Braverman has resigned from office after sending an official document from her personal email.
READ MORE
CBN to launch new naira designs December; suspends deposit charges
The Central Bank of Nigeria says it has redesigned all major naira notes and will by December 2022 start circulating them. The affected denominations are N100, N200, N500, and N1000. 
READ MORE
Islamic Development Bank Approves $1.8bn Financing for Nigeria
The Islamic Development Bank (IsDB) has approved a total financing of $1.8 billion for Nigeria, as the country becomes the fourth largest shareholder of the multilateral financial institution.
READ MORE
 
Rishi Sunak Becomes U.K. Prime Minister Amid Economic, Political Crisis
LONDON—Rishi Sunak, a former hedge-fund manager and U.K. Treasury chief, formally became Britain's prime minister on Tuesday after he was appointed by King Charles III, vowing to steer the U.K. through a period of growing political and economic troubles.
READ MORE
Floods Killed 612 Persons as FG Sends Relief Materials to 21 States
The federal government has distributed relief items to 21 states affected by floods. This is just as the government revealed that 1,427,370 persons have been internally displaced, approximately 2,776 persons injured, while 612 persons have lost their lives due to the devastating effects of the floods across the country.
READ MORE