Transitioning Generational Wealth
Gaining wealth is only half the struggle when building lasting wealth, it is crucial to plan how to transfer and pass down your wealth to future generations. This is referred to as generational wealth.
There are several ways that wealth can be expressed. In a purely material sense, wealth consists of all the real resources under one's control. 
Financially, net worth is the most common expression of wealth. A person, community, business, or nation's wealth is determined by the total value of all its valuable possessions. The total market worth of all possessed tangible and intangible assets is calculated as one's wealth after deducting all debts. Essentially, wealth is the accumulation of limited resources.
Measuring wealth in terms of money solves the problem of assessing wealth in the form of various types of goods. These figures can then be added or subtracted. As a result, net worth can be used as a convenient measure of wealth. Assets minus liabilities equals net worth.
Generational wealth is defined as any asset passed down from one generation to the next. This could be cash, investment funds, stocks and bonds, real estate, or even a business. Simply put, generational wealth is wealth that is passed down from one generation to the next. Wealth in this context is defined as assets that generate financial value rather than cash.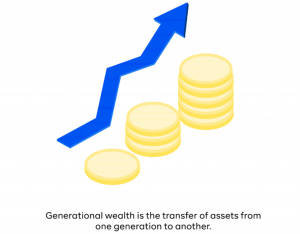 Building wealth is essential for wealth generation. Building wealth is a topic that can spark heated debate, promote bizarre get-rich-quick schemes, or drive people to engage in transactions they would never consider otherwise. To accumulate wealth over time, you simply need to do three things:

1. Make money: This step may seem elementary, but it is the most fundamental for those just starting out. There are two basic ways of making money: through earned income or passive income.
Earned income comes from what you do for a living, while passive income is derived from investments. You may not have any passive income until you've earned enough money to begin investing.

2. Save money: Simply making money won't help you build wealth if you end up spending it all. To set more money aside for building wealth, consider these four moves:
a. Track your spending.
b. Break down your expenditure into needs and wants.
c. Set your saving goals.
d. Put saving on automatic.

3. Invest Money: Generational wealth can take many forms, but it is frequently built through stock and bond investment, real estate ownership, starting a business, or a combination of all of these. Smart estate planning can also help ensure that generational wealth is not diminished by taxes that could be avoided.

Making sure your plan is carried out according to your wishes is critical when transitioning wealth. A transition strategy entails more than just logistics. It is about passing down your family's legacy from generation to generation. The goal is to make the transition easier and more effective. Most importantly, it is about safeguarding your family and priorities.

There is no single method for transferring wealth. In selecting a wealth transfer method, every family's needs and objectives should be considered. There are two types of globally recognized methods: traditional methods and modern methods.

In the traditional method, inheritance is carried out through testate succession (e.g., wills) or intestate succession (e.g., customary inheritance laws), while in the modern method, more sophisticated tools such as private trusts, investment holding companies (IHCs), foundations, conditional sales of assets, etc., are used. 

Most traditional wealth transfer methods fail to preserve the wealth being transferred due to numerous shortcomings. In a will/testament arrangement, the receiving generation is exposed to an estate fee of 10% of the asset value before the Probate Registry will approve the asset transfer. Furthermore, depending on the State where the asset is located, the receiving generation may be subject to an additional processing fee of 15% when perfecting the title to the asset. The probate process is also time-consuming, and it may be difficult to determine the deceased's assets. It is also more difficult to detect and prevent mismanagement of assets by the receiving generation.

Modern methods manage lapses from above better. The use of trusts, for example, prevents the need to go through the probate process and, thereby, avoids the need to pay estate fees. A trust also better manages family disputes that might arise due to property sharing, as it is technically the trust itself that owns the assets, with the receiving generation only receiving a beneficial interest in them. 

Each method has its own set of characteristics, advantages, disadvantages, and tax implications, with some being more advantageous than others in general. Although traditional methods are widely used in Nigeria, they have become archaic, costly, and even inefficient in terms of taxes. It also causes numerous family feuds. The use of sophisticated tools in modern methods counteracts the inefficiencies of conventional methods, enabling a more seamless and efficient wealth transfer process.

In conclusion, once a wealth transfer method has been selected, following advice from professionals, the step of ensuring that there is wealth to transfer to the next generation must be considered.

AfDB, IsDB join forces to boost Africa's health defense systems through the pharmaceutical industry
The African Development Bank Group and the Islamic Development Bank have signed a joint partnership action plan for the development of the pharmaceutical industry sector within their African member countries.
READ MORE
Nigeria's inflation surges despite drop among Sub-Saharan African peers
While the headline inflation rate for some Sub-Saharan African (SSA) countries eased in January 2023, Africa's biggest economy saw an increase after easing in December.
READ MORE
African nations turn to currency redesign to tackle graft, inflation
African countries are turning to new-generation banknotes to help curb corruption, runaway inflation and money laundering.
READ MORE
Insecurity threatens Nigeria's democracy as voters elect a new president
Nigeria's election next week marks nearly a quarter century of democracy in Africa's most populous nation, which in previous decades had become a byword for coups and military misrule.
READ MORE