Understanding Estate Planning: Securing Your Legacy and Ensuring Smooth Wealth Succession
Introduction
One of the most common misconceptions is that estate planning and succession planning are the same. Succession planning is directly related to the operation of the business. It is the strategy that will allow it to continue operating smoothly and effectively after being passed down to future generations, partners, or successor owners. On the other hand, estate planning encompasses all assets within an individual's estate, these assets may include houses, cars, stocks, artwork, life insurance, pensions, and debt. including ownership interests in closely held businesses. 

Business succession planning help to secure your company's continuity structure, whatever your wishes may be, whereas estate planning allows you to carry out your wishes for all of your assets (business and otherwise) during your lifetime, during a period of incapacity, and after your death. This month's newsletter will be about estate planning.

Estate planning is an important aspect of financial management that is frequently overlooked or delayed by individuals and families. It entails making critical decisions about how your assets will be managed, preserved, and distributed following your death. 

The concept of estate planning also considers the management of a person's assets and financial obligations in the event that they become incapacitated. Contrary to popular belief, this is not a tool reserved for the ultra-rich. Anyone, in fact, can and should think about estate planning. 

Individuals plan their estates for a variety of reasons, including preserving family wealth, providing for a surviving spouse and children, funding children's or grandchildren's education, or leaving a legacy for a charitable cause.

Overview of Wealth Succession Practices in Nigeria
Historically, wealth succession in Nigeria has been primarily based on customary practice/law. These customs predominantly favor the male relatives of the deceased. Generally, upon death, the practice (especially where there is no written instruction from the deceased) is to distribute the deceased's wealth among his family members. The deceased's traditions and culture govern how the assets are distributed. This frequently leads to a clash of interests, marginalization, and misappropriation of the deceased's assets.

To address these challenges and ensure a smoother wealth succession process, individuals are increasingly turning to modern estate planning strategies. Estate planning allows individuals to proactively determine how their assets will be managed and distributed after their passing. It involves creating legally binding documents such as wills, trusts, and other instruments that outline their specific wishes and instructions.

Wealth succession planning in Nigeria is undergoing a transformation, with more individuals recognizing the importance of formalized estate planning to protect their assets, provide for their loved ones, and mitigate potential conflicts. By embracing modern estate planning practices alongside traditional customs, individuals can achieve a more secure and equitable wealth succession process that aligns with their values and intentions.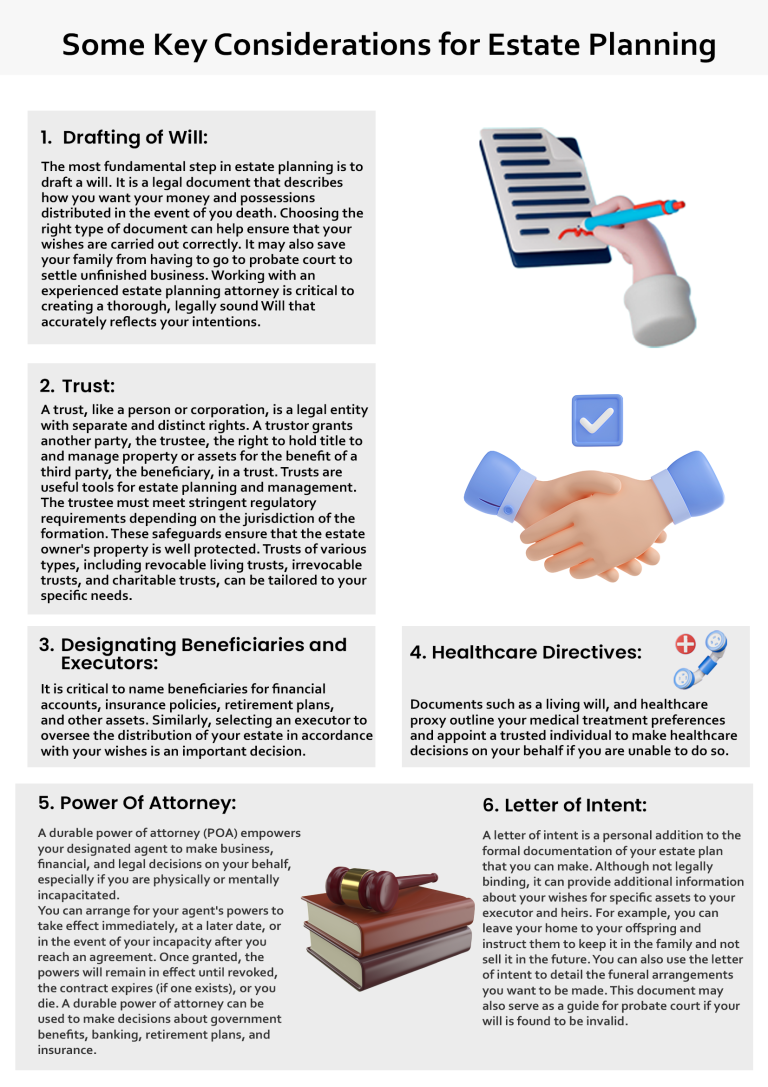 Checklist for Estate Planning
A large portion of your Estate Planning is done with taxes in mind. The ultimate goal is to leave as much as possible to your heirs. Taking action to minimize assets lost to taxes is an effective strategy for achieving your goal. You can use some tools in your Estate Plan, such as ways to avoid probate and pass assets while avoiding hefty taxes.
When it comes to estate planning, the steps below can serve as a checklist:
Make a list of all your assets including any physical assets along with any bank account, insurance, policies, and annuities.
Make a list of all your debts.
Protect your family: Consider whether you have enough life insurance to provide your family with the means to continue living the way you do.
Determine the type of estate planning you need.
Choose who you want to be your children's guardian.
Choose your Estate Executor/ write your Will.
See a Financial Professional.
Sign and notarize your estate.
Store your Estate planning documents.
Update as needed over time.
Conclusion
In conclusion, estate planning is necessary to ensure that one has a say in what happens to one's assets after death; insufficient estate planning can have disastrous consequences. While often overlooked or delayed, estate planning is not exclusive to the wealthy and should be considered by everyone. Planning for your estate, whether large or small, can help protect your assets, secure your beneficiaries, save time or money, reduce taxes, and reduce family disputes.
Financial professionals, estate planning lawyers, and accountants are just a few of the professionals who can assist you with estate planning. Their fees vary according to the complexity of your estate and the type of service you require. In most cases, they will charge an hourly rate, a flat fee, or a contingency fee.
By engaging trusted professionals and taking proactive steps to plan for the future, individuals can secure their legacies, minimize potential disputes, and provide peace of mind for themselves and their loved ones.
References:

DMO worries over low revenue as Nigeria's debt nears N81tn
Nigeria's total public debt may hit N81.64tn this year, according to findings by The PUNCH.
The figure was arrived at based on the 2022 Debt Sustainability Analysis Report by Debt Management Office.
READ MORE
Nigeria- South Africa: Re-igniting Africa's indispensable political, economic relationship
Nigeria and South Africa, as the dominant economic powers in Africa, play a significant role in the continent's economic, political and cultural diplomatic realm.
READ MORE
Nigeria's debt-to-GDP ratio to hit 37.1% in 2023 — DMO
The Debt Management Office (DMO) has projected that Nigeria's total public debt could rise to 37.1% of its gross domestic product (GDP) this year, nearing the government's self-imposed 40% limit.
READ MORE
World Bank offers developing countries debt pauses if hit by climate crisis
Poor countries will be able to pause their debt repayments if hit by climate disaster, under plans announced by the World Bank at the finance summit in Paris.
READ MORE